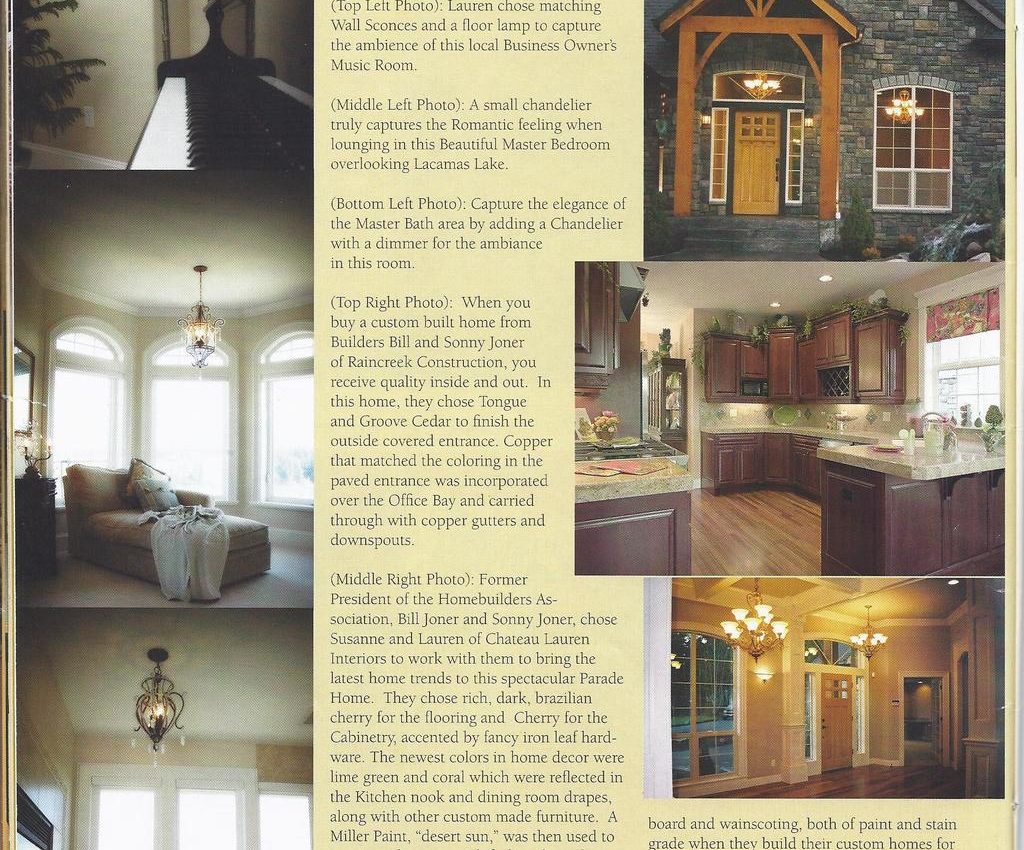 These images showcase the design detail created by Chateau Lauren Interiors of Camas.
(Top Left Photo): Lauren chose matching Wall Sconces and a floor lamp to capture the ambience of this local Business Owner's Music Room.
(Middle Left Photo): A small chandelier truly captures the Romantic feeling when lounging in this Beautiful Master Bedroom overlooking Lacamas Lake.
(Bottom Left Photo): Capture the elegance of the Master Bath area by adding a Chandelier in this room.
(Top Right Photo): When you buy a custom built home from Builders Bill and Sonny Joner of Rain Creek Construction, you receive quality inside and out. In this home, they chose Tongue and Groove Cedar to finish the outside covered entrance. Copper that matched the coloring in the paved entrance was incorporated over the Office Bay and carried through with copper gutters and downspouts.
(Middle Right Photo): Former President of the Homebuilders Association, Bill Joner and Sonny Joner chose Susanne and Lauren of Chateau Lauren Interiors to work with them to bring the latest home trends to this spectacular Parade Home. They chose rich, dark, brazilian cherry for the flooring and Cherry for the Cabinetry, accented by fancy iron leaf hardware. The newest colors in home decor were lime green and coral which were reflected in the Kitchen nook and dining room drapes, along with other custom made furniture. A Miller Paint, "desert sun" was then used to continue the warm rich feeling throughout this home.
(Bottom Right Photo): Builders Bill & Sonny Joner of Rain Creek Construction, like to incorporate lots of wood moldings, wide baseboard and wainscoting, both of paint and stain grade when they build their custom homes for discerning buyers.
Chateau Lauren Interiors may be reached at 360.834.5707. Rain Creek Construction may be reached at 360.518.1877.