Custom Home Builder Vancouver WA
High Quality Craftsmanship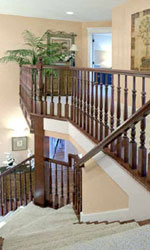 Rain Creek Construction has been developing and building quality custom homes in Vancouver, WA and the greater Clark County, WA area for over a decade. Throughout our building career we have taken pride in building custom homes with the highest quality of craftsmanship. We strive to work directly with each homeowner to create a home that directly reflects their individual lifestyle. Identifying the wants, needs, and style of each homeowner allows us to create homes that are truly distinctive to each customer.
You can find luxury custom homes by Rain Creek Construction in prestigious developments such as Rushing River Estates, Summit Oaks, Hillhurst, Sequoia Meadows II & III, as well as Ashley Heights, Lacamas Shores, and Westminister Walk. In addition to building in premier subdivisions, we also build frequently on individually owned acreage properties. We work closely with our customers to create beautiful large private estates throughout Vancouver, WA and the greater Clark County, WA area.
Along with building new custom homes we also work as a remodel contractor. We have completed remodel projects throughout Clark County WA that range from small additions to a complete remodel of a 4,000 sq ft existing house and adding an additional 2,500 sq ft to it. As a remodel contractor we work with our customers to create a new space that truly signifies what the homeowner is looking for.
At Rain Creek we take pride in building and developing with the environment in mind.Sequoia Meadows II & III were both developed in an environmentally friendly way and Sequoia Meadows II was even chosen as the site of the 2000 Clark County Parade of Homes. ICF (Insulated Concrete Form) Homes have become increasingly popular over the past few years due to their energy efficiency. We have built several ICF homes throughout Clark County including one for the Parade of Homes.
We encourage you to visit the rest of our site and would welcome your call any time. We would be happy to discuss your project and how we can work together to create the results you're dreaming of.
Not sure yet? Feel free to read some of our testimonials – Read More here