Custom Shop 40 Foot by 28 Foot
This 40 foot by 28 foot custom shop is 1,120 square feet! It features a 10 foot ceiling, dual 10 foot by 10 foot overhead doors, and three windows. This is an ideal shop for a large residential custom home lot, rural country-side property or commercial property. The shop has two large overhead doors (10 foot by 10 foot). It can easily accommodate any combination of boat, car, R.V., or other types of recreational vehicles.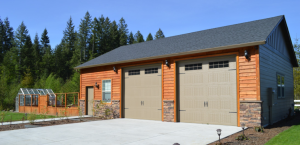 The shop does have attic space. It's also designed with three windows and an entry door. It's suitable for recreational vehicle owners, professionals, or even a small business operator who could benefit from the ample floor space and large overhead doors.
Builder is Sonny Joner
Cell: 360-518-1877
Email: raincreekllc@yahoo.com
License# RAINCCL991PJ
Below is a detailed layout of the 40 foot by 28 foot custom shop plan.
Click here for a downloadable PDF document of this custom shop plan.