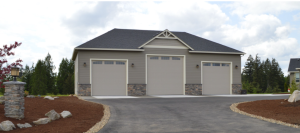 Custom Shop 60 Foot by 40 Foot
This 60 foot by 40 foot custom shop is built with a 1/2 bathroom and a loft/storage area. It features a 16 foot ceiling, two 12 foot by 12 foot overhead doors, one 14 foot by 14 foot overhead door, and seven windows! This is an ideal shop for a large residential custom home lot, rural country-side property or commercial property. The shop can easily accommodate any combination of boat, car, R.V., or other types of recreational vehicles.
The space could accommodate a large office with an additional loft/storage space with staircase. It's also designed with seven windows and an entry door. It's suitable for recreational vehicle owners, professionals, or even a small business operator who could benefit from the ample floor space, large overhead doors and potential large office space.
Builder is Sonny Joner
Cell: 360-518-1877
Email: raincreekllc@yahoo.com
License# RAINCCL991PJ
Below is a detailed layout of the 40 foot by 28 foot custom shop plan.
Click here for a downloadable PDF document of this custom shop plan.