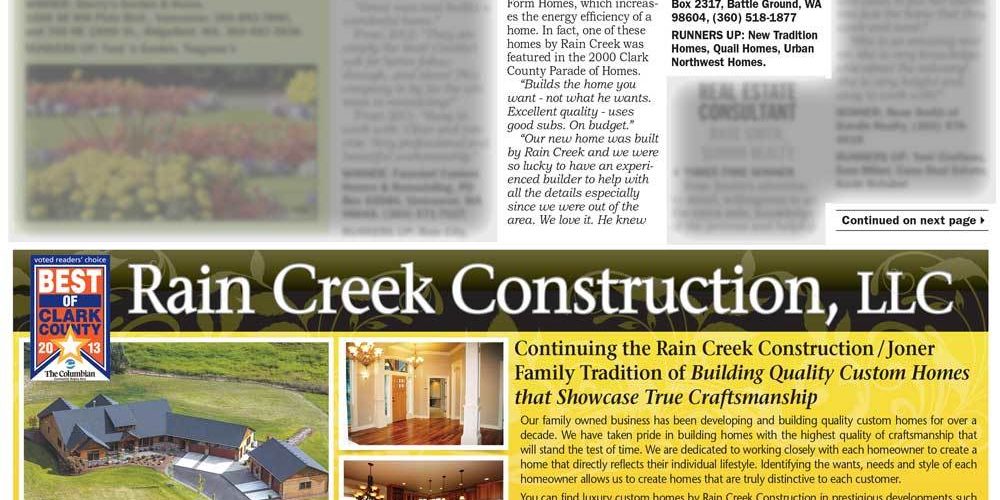 New Home Builder (Rain Creek)
First Time Winner
While Rain Creek also does extensive remodeling, Clark County voted them as the best new home builder for the first time.
Specializing in the custom, Rain Creek is also adept at Insulated Concrete Form Homes, which increases the energy efficiency of a home.  In fact, one of these homes by Rain Creek was featured in the 2000 Clark County Parade of Homes.
Builds the home you want – not what he wants.  Excellent quality – uses good subs. On budget.
Our new home was built by Rain Creek and we were so lucky to have an experienced builder to help with all the details especially since we were out of the area.  We love it.  He knew what we wanted and made it happen.
We LOVE our new home! Sonny and Crystal were wonderful to work with and made the process nice and smooth even though we were 3000 miles away!"
We have had them build 3 of our homes, they use quality products and do an incredible job, they really listen and pay great attention to detail!
WINNER: Rain Creek
P.O. Box 2317
Battle Ground, WA 98604
(360) 518-1877
RUNNERS UP: New Tradition Homes,
Quail Homes,
Northwest Homes