The way we live in our homes is constantly changing. Expansive glass, patio doors, and extended outdoor living areas have already been trending in recent years. With people spending more time at home now there is a greater call than ever for these features in custom home design. Along with these features has followed a demand for retractable screen coverings. There are some key reasons why we've been adding this finishing touch to the custom homes we build.
Light & Privacy

With people spending more time at home now, enjoying the sun, the view, or even a classically gray Pacific Northwest rainy day may not be ideal for remote work and activities. Natural light from large windows may require that we cover them to reduce the glare on our computer screens or provide more privacy since our neighbors are home now more also. But we know it's not healthy to spend all day indoors with the curtains or blinds closed. One solution homeowners are asking for is to add retractable, motorized screens to the outside of their homes. Exterior retractable screens allow filtered light to enter so that you can still see the outdoors, yet maintain more privacy from outside views. Also, with easy automation, the screens can be easily raised higher or lower through the day to adjust the lighting to work and living areas.

Outdoor Living

During the time of restaurant and recreation closures, people began looking for ways to get more use out of their outdoor spaces rather than staying inside the house. This can be a challenge with our weather and rainy climate. Even if your outdoor area is covered, you may quickly change your mind about being outside as the wind and rain blow through. Installing a screen enclosure for a patio or deck can expand the living space of a home by enclosing an outdoor area as a shelter from the elements. For extra comfort, consider adding a patio fire pit or heat lamp. (For safety, ensure your fire pit is approved for the location, ventilation, flooring and ceiling height per manufacturers requirements.) And on those hot summer days, you can enjoy your screened porch as a shaded oasis from the heat of the sun's rays.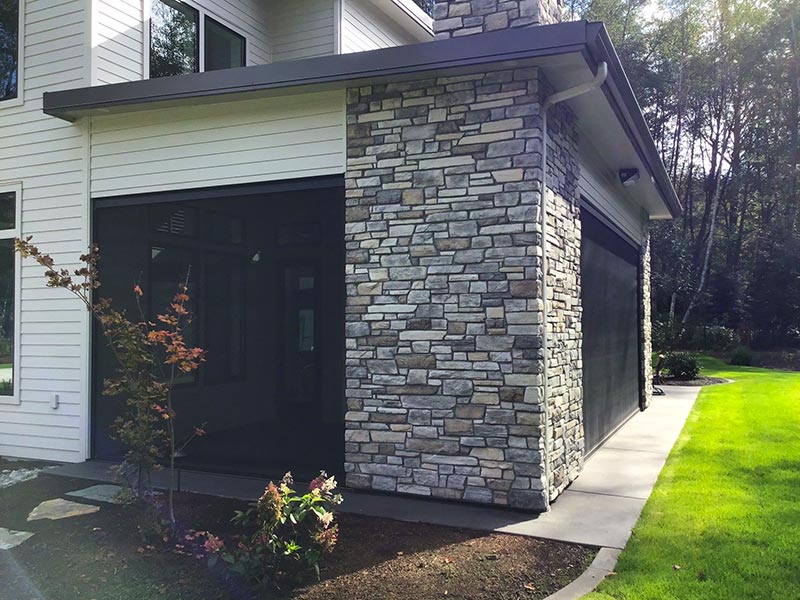 Energy Savings

The high costs of heating and cooling are a constant reminder when we see our utility bills each month, especially in seasons of higher use. Now with remote work and school becoming a new normal, many households are using their homes differently and being hit with higher energy costs on a daily basis year-round. Beyond patio enclosures, retractable screens can be used to cover expansive glass and reduce costs by keeping warm air in and cold air out. These types of screens are a great alternative to heavy curtains which obstruct your view and can make you feel like you live in a cave. Motorized, retractable screens allow you to easily cover your glass from the outside and retract whenever needed, with just the push of a button.
What We Do
At Rain Creek Construction we have been installing Kraft Screen & Door motorized screens on covered patios and windows. They roll up when you don't need them, give an unobstructed view or can provide total light blockage, and even reduce exterior noise. These screens are available as manual or automated operation types, with RTS motor and remote options. Multiple screens can be programmed on the same remote. With coverage up to 14' high and 24' wide over an opening, they are an efficient and attractive solution for patio enclosures, windows, and even skylights, available in many colors and fabric options.