Outdoor Living in Style
According to the calendar, Spring is less than a month away (never mind the cold temperatures, rain, and occasional frost in the morning). With the days getting longer and warmer, it will be time for us in the Pacific Northwest to start spending time outside again. Of course, that means it will be time to mow the lawns, pull weeds, and other yard work that may have been ignored during the Winter.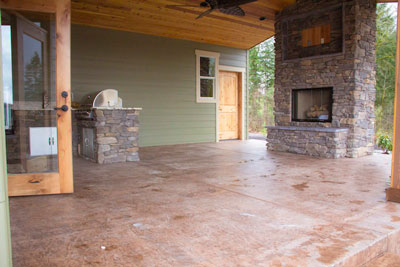 But, after the work is done, wouldn't it be great to have a nice place to relax and take in all the work you've done. The Pacific Northwest definitely has all four seasons, so when we get a chance to enjoy the sun, we take it. Rain Creek Construction has many options for outdoor living, so when the final hedge has been trimmed, you can call it a day from the comfort of your own backyard.
Almost all Rain Creek custom homes have covered patios on the back of the house. Depending on the size of the patio you have, there are several different ways you can bring inside living outside.
Outdoor Living Fire Pits
One of the easiest things to add to your outdoor living is a fire pit. These can be found at many different home improvement stores, or you can have one built in place. Smaller fire pits are safe for decking and can be moved around for maximum effect and can be put away during the colder months.
Built-in fire pits are more sturdy and allow for more seating around the flames. Many times, these are built away from the main patio, both for safety and to act as a separate living area. To take it one step further, some homeowners have fireplaces built in to the porch itself for enjoyment year round.
Built in Barbecues
Another popular feature that can be built into the existing porch is a barbecue. Like the smaller fire pits, you can certainly wheel out a grill during for summer cooking, but a built in barbecue allows for more options. Countertops, gas lines for the grill (no more propane tanks!), and even small refrigerators can be added for a complete kitchen.
Flatscreen TV adds the final touch
The final touch to the outdoor living area? A television of course. Flatscreen televisions suitable for outdoor use come in many varieties and sizes to fit almost any covered porch area. These televisions can either be housed in a cabinet or as a stand alone. Make sure you know the limits of the television – you may need to bring the television inside during freezing weather.
Hopefully the snow has already made its final appearance of the year and the flowers can start blooming, the lawn mowers can start mowing, and the lovers of the outdoors can start living. By adding a fire pit, barbecue and even a television, you can make outdoor living a little more comfortable.
Rain Creek Construction has been developing and building quality custom homes in Vancouver, WA and the greater Clark County, WA area for over a decade. Rain Creek Construction has many new home options that include outdoor living and would be happy to design a home with your dream outdoor living area. Contact Rain Creek Construction for more information on covered patios and outdoor living options for your new home.