Timber Entryway Lends Warmth
After spending months on plans, designs, and construction, it's time to walk into the finished, brand new home. To make that first step all the more inviting, Rain Creek Construction specializes in timber-framed entryways to give the house a statement piece even before stepping inside.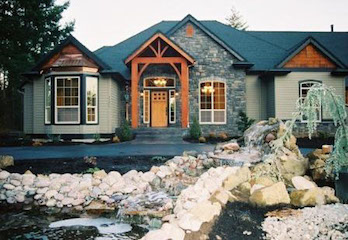 Before you think timber-framed entryways are reserved for log cabins or homes deep in the woods, this look works with several styles of home. Craftsman, contemporary, and other types of architecture benefit from this extra dash of interest, especially when other wood or stone accents are added.
Timber-framed entryways welcome guests with warmth and a rustic beauty – and the home doesn't need to be on a mountaintop to get it.
When paired with a stone veneer, timber entryways can create a stately, yet rustic, look to any home. The exposed timber, used sparingly here, and stone seamlessly meet the rest of the home. The glass door and sidelights are another touch, bringing three styles together for a dazzling look.
If it features plenty of rock, trees, or ponds – or even just hints – the timber entryways can really help the house become one with the landscaping. The cedar shingles in this example also play off the entryway, tying the front of the house together. These entryways can be built simply or with added interest, including curved design elements.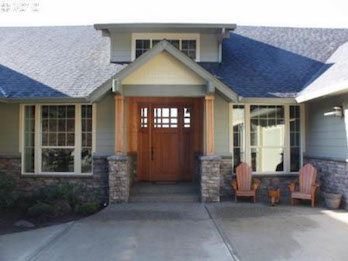 In this example, the large wood door is framed on either side of the covered entryway by timber supports. As the lone exposed wood elements, the door and supports are joined to make a single point of interest. The stone veneer on the bottom third of the home complete the look.
Even simple designs can be made with the right design pieces. This timber entryway is fairly straightforward, but added design pieces exude strength. The wrought iron brackets, hanging lights, and even matching doorknob provide a little more pop.
Popular in the Pacific Northwest, timber entryways add warmth, rustic charm, and strength to the front of any home. With several design elements and styles, Rain Creek Construction can implement this look to almost any kind of architectural home design.
View more of our custom home construction projects in our Gallery.